Well, hello there strangers.
Long time no post, sorry about that.
Just wanted to share one of the projects I'm working on right now. Apologies in advance for the crappy cell phone pics, my camera went missing after my daughters fourth birthday this September.....
Any ways, I have been hoarding the wargames factory shock troops for sometime now to make my own Imperial Guard regiment - The Necromundan 83rd. Basically the shock troop great coat body and sometimes the head with Cadian arms and other GW bitz here and there....
Paint scheme is a simple brown trench coat and black armor/ helmets with web gear a faded green.
and sorry again about the quality of photos, just wanted to share my junk
Have two squads built and one painted so far. Right now need to base all this stuff including these veterans with shotguns.
really liked how they turned out. I wanted to keep the House identity for some of the troops and not use all helmets and gas masks, gives them a proper-used-to be-a ganger-feel.
So having tons of bitz and no cash means I really have to use what is on hand. I really wanted storm troopers so I decided to make my own using Marine Scout legs, wargames factory arms, Cadian torsos and the RT Era Imperial Guard heads. Still need some greeen stuff work but I think they will do for now.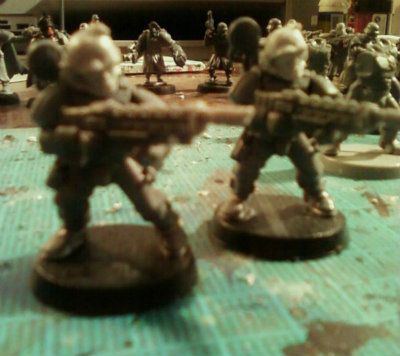 Well thats it for now, will post again soon. Hopefully with a better camera next time.
Cheers and thanks for looking.