Well whaddaya know. Been almost 3 years since I posted any real progress on this board.
Firstly, I'd like to apologise for the enormous wall of text and amount of photos for two little bits of terrain that could be much, much better. I'm just happy to have gotten something built again finally. For the impatient and uninterested, feel free to just skim the photos, no hard feelings.
Anyway...
I got dragged into a terrain making competition by a buddy over on
Terragenesis
. The theme was machines/engineering and the deadline was 28th February. Thing is, the competition has been running since 1st of January and I got dragged in on 27th February. So here's what I managed to come up with in a day's time, minus when I was at work, watching top gear, sleeping or fornicating. Actually, I finished the paintjob and took photos at work with 3 minutes to spare.
I give you 'Reinventing the Wheel' Research & Development facility.
Cinematic shots: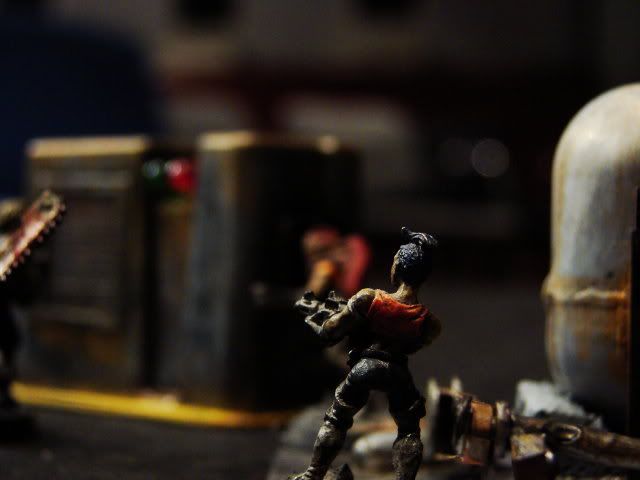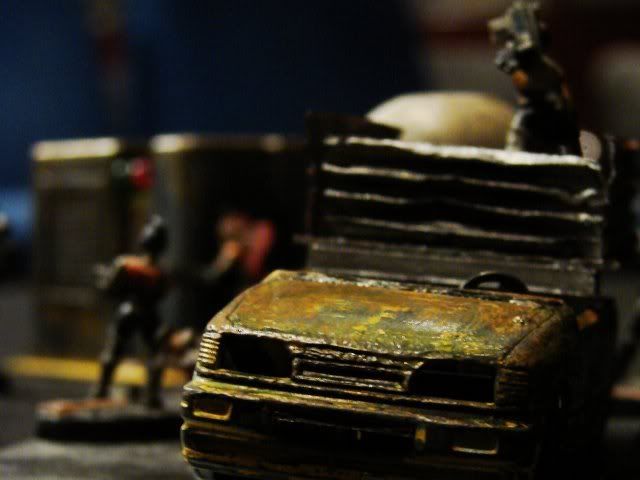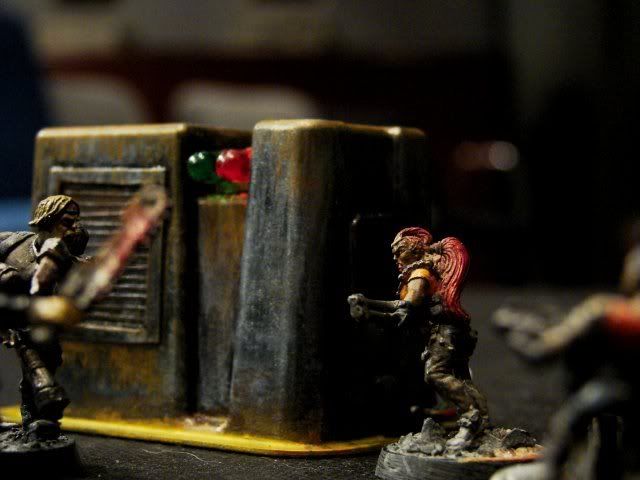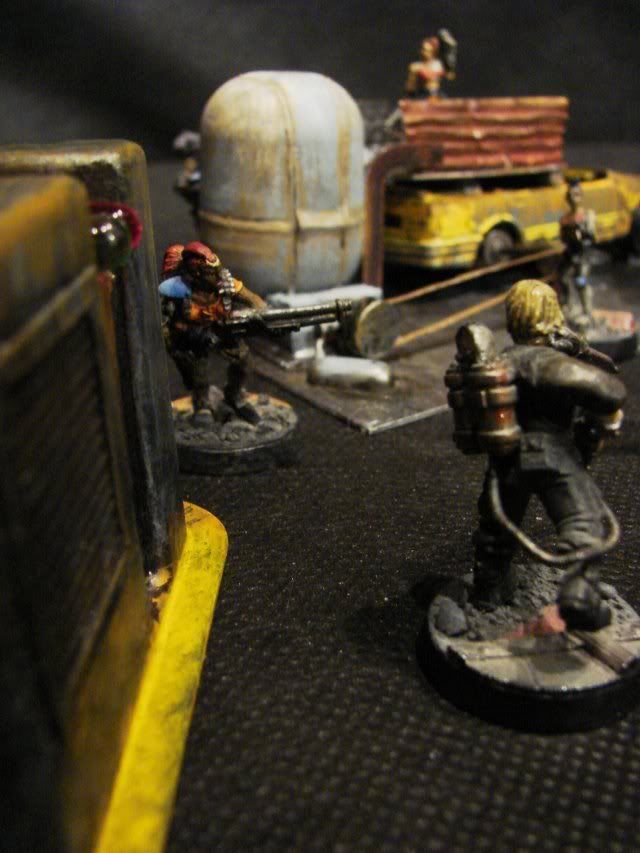 And some regular ones: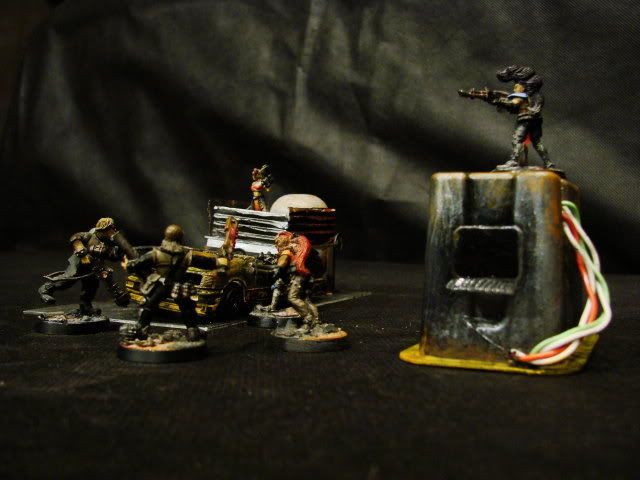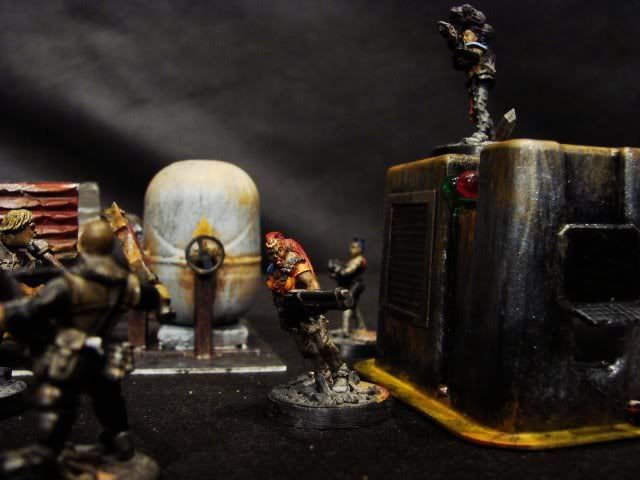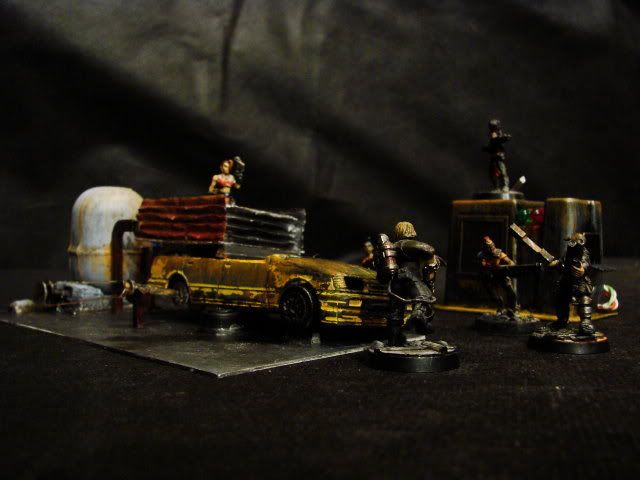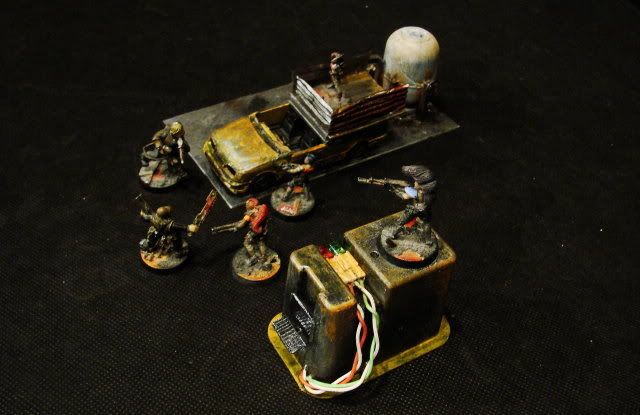 And a copy-paste quote from
my competition entry
, explaining the idea behind it all:
Quote:
It's a post-apoc kinda set of pieces that represents a Research & Development facility. Since much knowledge pertaining to manufacture of goods and means thereof had been lost in the apocalypse, this workshop is specialising in recreating various items and in some cases, reinventing them.

The rapid prototyper is one of the pieces. It's made from printer cartridge packaging, sanded and painted. Two as of yet non-working LEDs were added, as well as a plasticard-built computer console with a nice shiny screen (gloss spray).

The other piece is the compressed air storage and, er... production. The car is jacked up, on its tyre in a post-apoc fashion, and the drive shaft used as motivation for an air compressor, driven via belt. The car was an old beat up 1/43 scale model, painted a bit. The cargo bit on top is plasticard and cardboard, cut and painted. The tank is from a Kinder egg. Welding was simulated via a thin, long application of PVA glue. The concrete base is painted insulation foam and the compressor itself built of random plastic bits. The base for the entire thing is plasticard and painted to look like really grungy metal via a combination of applying via crumpled tissue, stabbing a make-up brush and inking.