Sorry it took so long to get this posted, chaps. Double shifts and other commitments interfered as ever. Anyway, lets make some barricades:
INTRO: What you'll need
You will need your usual range of cutting tools (scissors and hobby knife) and a metal rule for cutting. Although it's not pictured, you can probably figure out for yourself that you'll need glue (PVA). If you hadn't realised that you might need to stick this lot together then you probably shouldn't read on
The two odd looking tools in the centre of the mat are
crimping tools
- a must for anyone doing post apocalyptic terrain IMO. The bottom one is a really cheap version with plastic teeth which will only cost a couple of quid from a craft shop. This will only crimp thicknesses up to that of a greetings card and even then it'll probably have to go through twice. However, for a few more pounds (I got mine for £7 from ebay) you can get one like the higher of the two pictured which has aluminium teeth. For the small extra expense this is definately worth it. This will put a lovely, crisp crimp in pretty much anything that'll fit through it. Incidentally, you won't need both. I only pictured the two of them so you could compare for yourselves. Moving on...
The actual materials you will need (from left to right) are:
1) 1mm or thicker card board
2) Coffee stirrers or similar
3) Card. I've used cereal box but you can use something thinner if need be (old Christmas cards are ideal if you have them)
STEP 1: The frame
Take your coffee stirrers, snap them into lengths and glue them together as pictured, allowing about ten minutes for the glue to dry a litttle. Whatever length and height you use is up to you.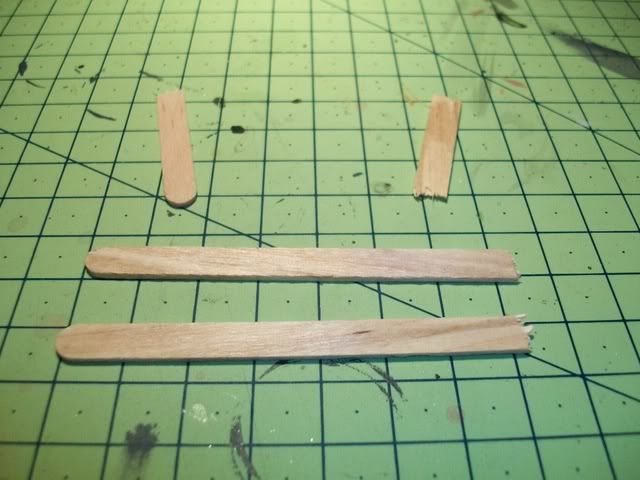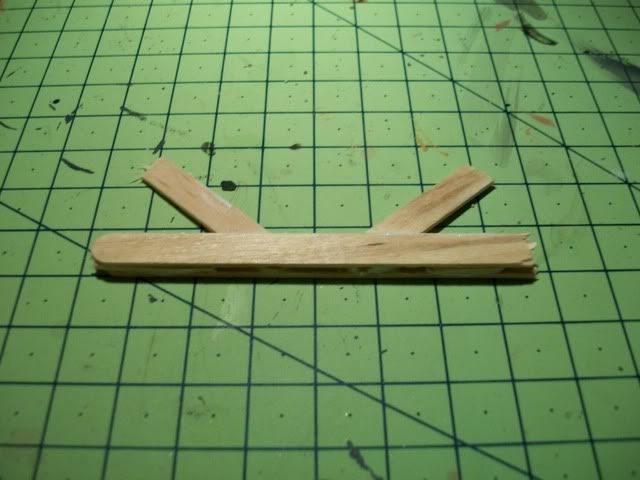 You may notice in the second pic that I've sandwiched some small peices of stirrer at the ends for additional strength.
STEP 2: Metal madness
Firstly, crimp a length of card and cut up into some small pieces. You will see I've also used some uncrimped card too. This gives the finished barricade a more authentic, non-uniform look.
Now layer these pieces onto one side of the stirrer frame, glueing them down with plenty PVA. The beauty of this entire process is that you don't have to be neat.
IMPORTANT:
let the PVA dry clear before moving on to the next step.
STEP 3: Rinse & repeat
Cut the excess card along the base of the frame so you have a flat edge on the barricade's bottom.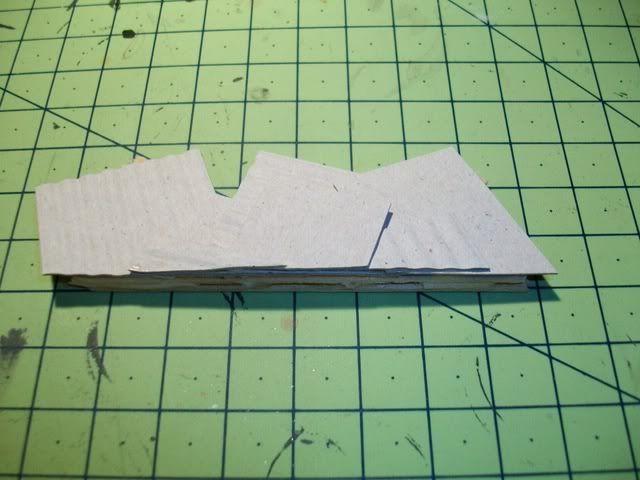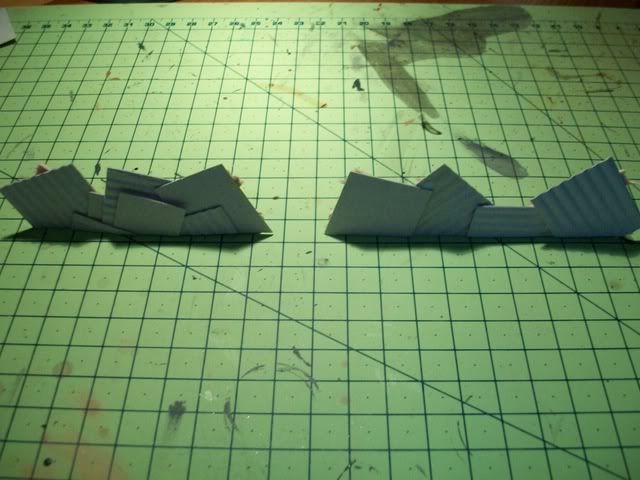 As an afterthought, I glued the removed excess card back onto the barricade on the left. this just adds an extra layer of detail but is not necessary to make the barricade effective.
Repeat the process on the other side of the frame and we're nearly done.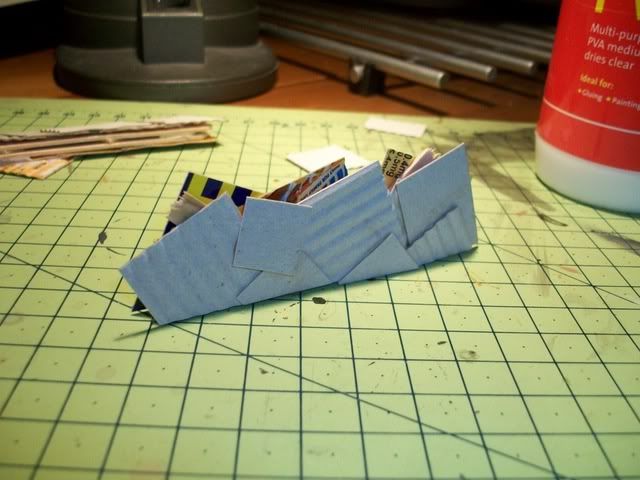 STEP 4: Lean on me
Although the barricade will stand nicely as they are, I usually add some small pieces of thick card or plasticard along the bottom of the barricade for extra depth and stability. It helps to glue the thick card on, stand the barricade upright and slide the thick card pieces down so they touch your work surface. These "feet" will ensure the barricade's stability.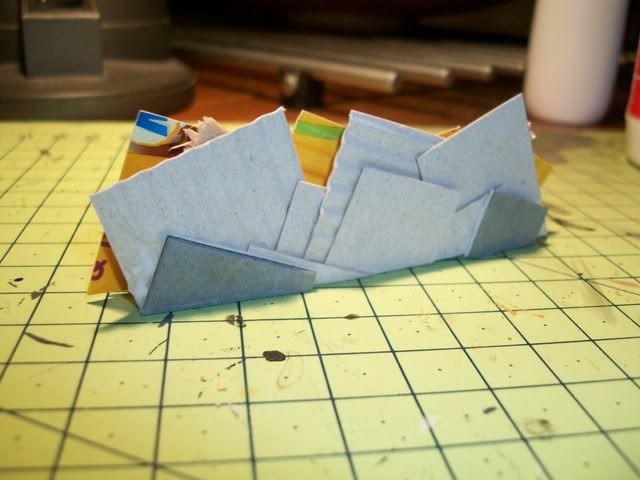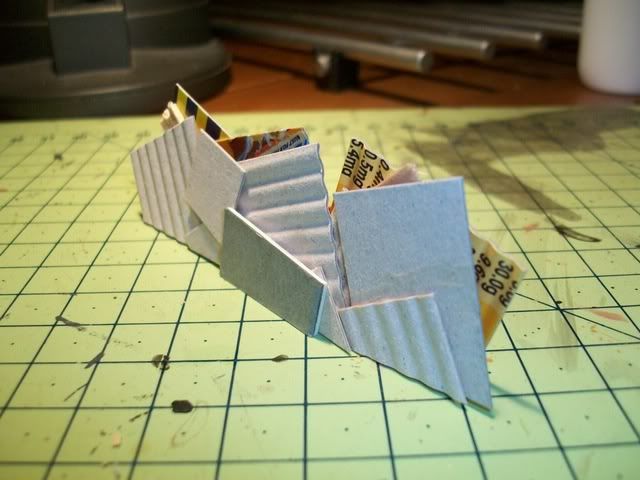 STEP 5: All done!
Once the all the PVA has dried clear I cover the whole thing in a layer of watered down PVA for strength. The thick card "feet" can have their edges filed for a weathered look if you like...I do!
Well, that's it. Once dry, undercoat and paint. I won't tell you how to go about painting your barricade; that's up to you (and I've run out of undercoat) but in true Blue Peter fashion, here's one I made earlier:
Enjoy!
NB:
In the time it took to watch Krull and the beginning of Ladyhawk (yes, I'm having an 80's fantasy afternoon) I completed 3 barricades, uploaded all the photos and wrote this tutorial. Painting one of these for the table will take about 20 mins +10mins per extra barricade. This is possibly the quickest terrain project you will undertake. Lovely stuff.